Contract Holder Claims
Help us help you. Follow these tips to ensure the best service.
Authorization must be obtained from us before repair work is commenced. Failure to obtain authorization will result in the denial of your claim.
In the event of a breakdown or potential issue:
For immediate 24/7, 365-day assistance, call us at (800) 233-9878 and follow the prompts.

You may also email our claims department by submittin

g this online claim form.

After submittal, we will reply shortly.
Help us, help you. Be prepared with:
Your name
Application/Contract number (found on the upper right corner of your application and under the service contract information section of your registration page).
The phone number or email address where you can be currently contacted
Phone number, name of the repair shop and address of the repair facility. If you need help finding a repair facility, we can provide you with a list or repair shops to choose from.
Important tips to expedite an approved claim:
It is your responsibility to authorize the repair facility to diagnose the problem and to contact us to provide the diagnosis and an estimate of the parts and labor.
We will evaluate the claim, and upon our acceptance of liability, we will issue an authorization number and confirm the repair cost.
Upon completion of the repair, review the service performed with the repair facility and make certain that you are satisfied before signing the work order approving us to pay the repair cost.
You are required to retain all failed parts, associated fluids and filters until the claim is concluded.
Documentation must be received by USWC within 30 days of the authorization date to be eligible for payment. Should more time be needed to complete a repair, please contact us within the 30 day window to make any necessary arrangements.
TO BETTER SERVE YOU: If a repair facility does not accept payment from Service Contract providers, we can reimburse you provided an authorization number is obtained before repairs are commenced. Please have the repair facility call us with a diagnosis and estimate before repairs are started to get your claim approved.
Customer Service Is Our Top Priority
Every USWC staff member has the training, experience, knowledge and commitment to excellence to ensure your questions and requests will be handled in a highly professional manner.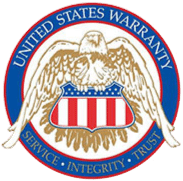 United States Warranty Corporation
PO BOX  639
Madison, OH 44057